Joesph and I went cycling today. Yes, I was silly enough to ask someone who practically lives at a gym TO GO CYCLING. I had the stamina of a paper cup.
Anyways, we started out the morning by going down by the Yarra at about 10am, all the way to South Yarra, and had a great breakfast at
one of my favourite joints
.
I didn't bring Annoyance out today, it would've been a GIGANTIC burden. It was nice to just cycle without that big turtle back.
We then rode further down the bike trail, past Melbourne High, and then to Chapel Street. We passed by Prahran Market, and rode down to Balaclava for a second cafe stop.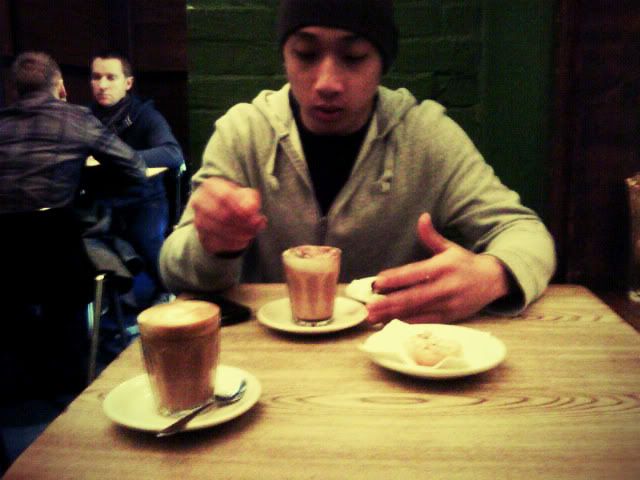 This is Wall 280. Excellent little chill out spot, nothing to do with the Disney character.
After that 8km journey, we decided to take the train home instead. HAHA. It wasn't cuz we couldn't do it k, he had a (hilarious) mishap trying to make a u-turn by the river. Almost falling into the Yarra River, he obtained 2 wounds as a result of wearing slippers and shorts for a biking trip.
From Flinders, we cycled home. He got into his jeans and wore some proper footwear, and off we went for a 2nd adventure, this time, up north.
We cycled through Rathdowne Village and beyond, and even tried to break into a catholic church along the way. Eventually, we ended up in
East Brunswick
, where I once ALMOST fixed me up a 2nd hand bike. Check CERES out if you want a cheap bike. They're pretty cool people.
Since I was hungry AGAIN, we had a little bite, went round the area for a look see, and decided to go home before it got dark.
On the way back, we found some clearance stores along Nicholson street, and he got himself a pair of new shoes.
With aching groins and sore thighs (for me at least), we ended our biking day out at about 5.30 pm. We traveled approximately 18km today on bike (yes i excluded the train ride), but let's make it 20km for all the detours and u-turns (and also cuz it sounds nicer).