I was tossing and turning, and when I knew I couldn't sleep, I started cleaning my camera gear. Thankfully, I had a 1 hour shut-eye time before waking up at 4.20am.
Theng Wei ( Pontian --> Subang --> Kepong ) arrived superbly early, at about 4:36am. Without getting lost. Amazing what they can do, these village people.
We had a little something to bite, and headed out to the MRR2 to wait for the Chan Brothers. My dad's little detour was surprisingly clear, we had no problem with getting there or parking. Ivan even bargained for the
illegal
parking fare.
We were all Thaipusam noobs. It was my first time at Batu Caves, I'm not sure about them. Sadly, I have to say it could be my last.
As exciting as the whole festivity was, the manly men we are were freaked out to our very bones. We got a culture shock in our own country, but it was definitely an eye-opener.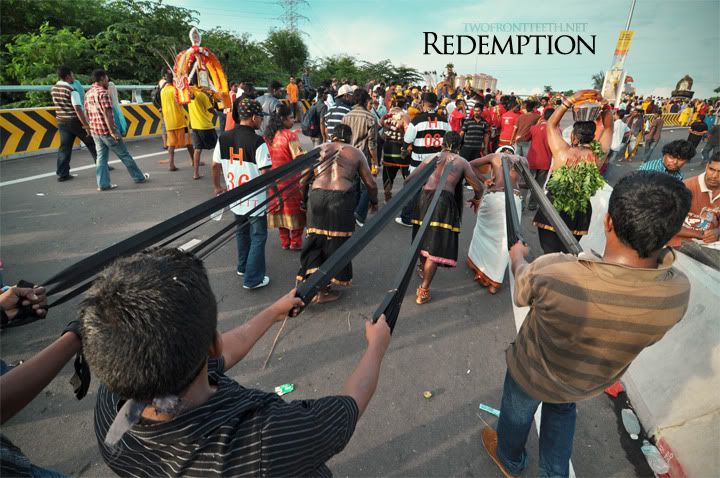 We may not understand why and how things were done, but we were very excited about everything, constantly calling out to each other, pointing at jaw-dropping sights.
It was very easy for us to get separated from one another, we had to make sure we could count up to 4 each time we turned our heads. The crowd was OVERWHELMING. Never have we experienced anything like this before. A "pasar malam", the whole elevated highway shut down for the processions, a fun fair (with a ferris wheel and the whole deal), the different smells, the climb into the closed down pedestrian bridge, etc.
For me, it was a photographer's haven. I don't know about Theng Wei, but I felt constantly intimidated by the bazooka lenses those photographers at Batu Caves have. The more each photographer pushed the limits to get a good shot, the more it encouraged me to get right smack in front of the action to get what I need.
However, we were all very grossed out by how dirty the whole place had become, we even had to check our soles at one occasion because we thought we could smell.. Erm.. Chocolate.
I'm only gonna be showing a series of summary shots, still got more to come. Don't know when I'll post em, but it was really amazing to be able to get shots like these and not get slapped in the face.
But Theng Wei and I were getting used to squatting 1-2 metres away from our subjects without getting permission to photograph them. As weird as it would look in a mall or at a cafe, it was all doable at Batu Caves.
I'm very proud of myself to have climbed the 272 steps up into the cave. It was a million times easier than I thought, just that we had to squeeze, push, duck, etc all the way up. WE even got stuck for a while in the caves before we decided to go back down.
I'm glad to have experience Thaipusam at its very best for once in my life. Don't reckon I'll do it again, but the shots I got were worth the trouble.
Kudos to all the kids who endured it all. You guys are stronger than we city brats are!