So remember
the day I went to KL city
?
Yea so here's what I did. I took the KTM from Kepong to Kuala Lumpur Railway Station, hoping to photograph some interesting things there. I've never really explored the city much, all I ever did was shop at Sungei Wang and Low Yat.
So I guess it's a good thing, you get to see what I see for the first time. But yea, looong ago I went for a night shoot with Ian around the Bukit Bintang area. This time I wanted to start somewhere different.
It was boring.
The railway station had lost most of its character, and the surroundings only included the KTM office and the national mosque.
Dull much?
So I walked alongside the highway, pretty scary stuff. Never thought cars could be so loud. Erm ok. I walked without direction, and thankfully ended up at Dataran Merdeka. Being at such an iconic site, there was of course a visitor's information booth.
Of course. Noone's there to give any information. "BACK IN 5 MINUTES". Yea rite.
I tried working out where I was from the very confusing map, and there was no "YOU ARE HERE" on the map. Thankfully a helpful man pointed me in the right direction to PASAR SENI!
Boring. Again.
Clearly, it's catered for foreigners. So I kinda gave up on my little exploration, and decided to revisit the familiar - Sungei Wang.
BUT HOW? I was no where near the monorail station.
"MALI MALI MALI! KAJANG KAJANG!"
"Ada pergi Sungei Wang?"
"TAADA! Sungei Wang sana sana!", as he was flipping his fingers at a vague direction.
After asking a bunch of bus drivers, I finally found a bus headed for Bukit Bintang! So fun, only RM1. FIRST TIME TAKING THE BUS IN THE CITY YO! Ok I sound so jakun.
So I got off at Pavilion first, as I had another aim in mind - COFFEE! And I found that red logo that made my heart pound way faster than KTM trains.
Usually, I don't go head over heels for Illy, kinda.. Resent it. But I've heard good reviews about Espressamente Illy, just the sound of latte art assured me that they steam some serious milk here.
And the reviews were right. Cloud 9. Forget whatever I said about
+wondermilk's coffee
, it's garbage compared to this. But of course, the barista's white. :p I'd like to think he was imported from Italy.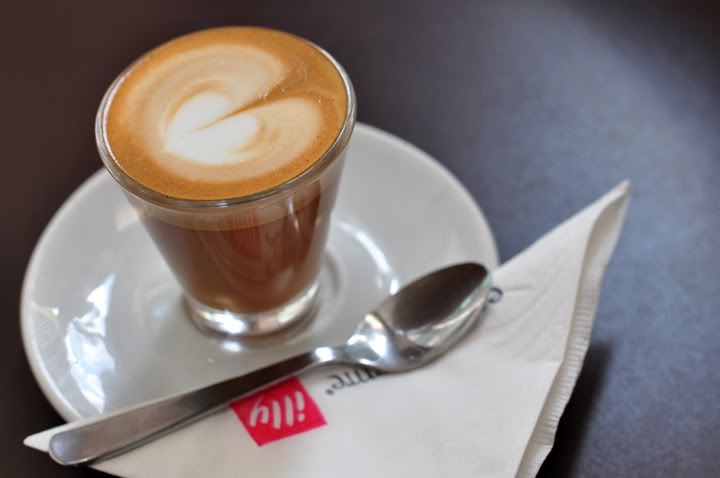 Milk texture was excellent! No doubt, it's nowhere near St Ali's or Seven Seeds, but it's a good cuppa, alright! I ordered the Capo Triestino instead of my usual latte, as I really wanted to taste the espresso. Albeit slightly burnt, I was still a very happy man! Filled in the comment sheet with glee.
I bet you're drooling for some right now.
When I was done with my day, I took the monorail back to KL Sentral, and the ANNOYINGLY LATE KTM back to Kepong.
But it was all good, I went home happy, with (good) coffee in my tummy, and a bountiful harvest in my shopping bags.